Orange Goblin
Electric Ballroom, Camden, London.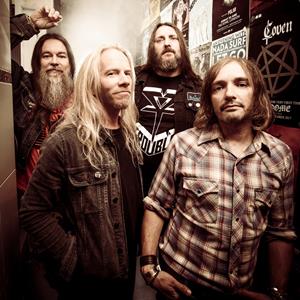 14+ only. 14s to 16s must be accompanied by an adult. No refunds will be given for incorrectly booked tickets.
More information about Orange Goblin tickets
Longevity is everything in the world of heavy metal, as Sabbath, Priest and Maiden have demonstrated over the decades. Following in the footsteps of those epoch-shattering giants was never going to be easy, but one band have undeniably earned the right to be regarded as British metal legends, cut from the same beer-stained cloth as the greats: fired-up from celebrating their 25th Anniversary in 2020, it can only be Orange Goblin!
Formed under the name Our Haunted Kingdom, way back in 1995, Orange Goblin entered the world of heavy music as wide-eyed enthusiasts, eager to channel the fire and fury of their favourite bands. Emerging amid the exhilarating melee of the mid-'90s stoner rock and doom explosion, the Londoners immediately endeared themselves to a generation of metal fans by simply going for it at full, beer-swilling pelt.
Orange Goblin's debut album Frequencies From Planet Ten was released via esteemed underground imprint Rise Above Records in October 1997. From that moment on, the band's rise to prominence was slow but steady; their rabid dedication to playing live and always rocking people to within an inch of their lives earned them a formidable reputation and numerous opportunities to tour the world. A steady stream of critically acclaimed and widely revered studio albums has also added to Orange Goblin's substantial legacy, from early classics like Time Travelling Blues and The Big Black through to more recent triumphs like 2012's universally praised A Eulogy For The Damned and 2018's equally hailed The Wolf Bites Back.
Ben is understandably chuffed about the band's achievements. "I'd have to say that we're particularly proud that we've recorded nine studio albums that are all held in high regards by people that matter to us," he states. "Also, touring the world and doing shows and tours with Alice Cooper, Heaven & Hell, Queens of the Stone Age, Down and Clutch, and sharing festival stages with Slayer, Danzig and loads more. Being asked to play the mainstage at Ozzfest in California with Ozzy Osbourne in 2017 was a personal highlight."
Fast forward to 2021 and Orange Goblin are ringing the changes and ushering in a new era of heavy metal chaos. Following the somewhat tearful departure of bassist Martyn Millard last year, the Londoners have regrouped, recruiting old comrade Harry Armstrong (ex Hangnail/Earls Of Mars/End Of Level Boss) to handle that all-important low-end rumble. Despite the many challenges conjured by a global pandemic, the OG crew – completed by guitarist Joe Hoare and drummer Chris Turner - have weathered the storm with more grit and determination than most.
Orange Goblin have recently signed a new deal with legendary UK metal imprint Peaceville Records, and will return in 2022 with a brand new studio album, followed by more of the explosive, celebratory live performances that the band's ever-expanding fan base have come to expect. Put simply, you can't keep a great band down and they don't come much greater than Orange Goblin. "The past couple of years have made us more determined and hungry than ever," concludes Ben. "The creative juices are flowing again and spurred on by a new deal with Peaceville and some fresh input from Harry, we are looking forward to creating a really special album that will continue this crazy Orange Goblin story. We've seen just how loyal and special the Orange Goblin supporters are. They stuck with us through uncertain times and there were certainly moments when we could've just thrown the towel in. But that isn't our way, we still believe in this band, always have and always will, so we want to repay that faith from our fans by making the best album of our career and getting out to play it in as many parts of the world that we can!"